Those of you who know about the philosophy of Ginobility also know that we are permanently searching for outstanding and interessting products within the Gin universe. While nearly every day new Gins pop up anywhere over the whole globe this task becomes not easier! For sure not! Identifying products where the whole package fits, starting from the first visual impression, the story behind it and last but for sure not least the taste becomes really challenging these days.
One of these perfect matches is Greyling Modern Dry Gin of the Distillery with the interessting name "Two Birds Artisan Spirits" from Michigan, USA. Stumbeling over this outstanding product the first time on Pinterest searching for nice pins to repin on our board, we had the clear feeling that this must be something special. After getting in touch with Nate and Ryan via Facebook the very first time, they did let uns know that they were searching for ways to get their Gin to Europe. Destiny?!
So after we have had the chance to taste this nice Gin things finally got rolling: we did our homework, Nate and Ryan did theirs and now we are proud to exclusively present Greyling Modern Dry Gin to Germany and the rest of the "old world".
But who are these guys from Michigan? What is it about this strange name Greyling? And what is a Modern Dry Gin? The following intereview with both Greyling Masterminds and owners of "Two Birds Artisan Spirits" Ryan Bailey und Nathan Jonjevic hopefully clarifies things and provides Germany and Europe with a clearer picture of Greyling Gin and why Ginobility brought it to Europe. If not, feel free to ask us any time! But for now...have fun reading!
Ginobility: Your company Two Birds Artisan Spirits and your product Greyling Modern Dry Gin are both completely new and unknown to our readers. Actually they are unknown to the whole of Germany and Europe! So let's start from the very beginning:
What is your company Two Birds Artisan Spirits about? Where are you located? Do you have a special kind of philosophy that your company and products are based on?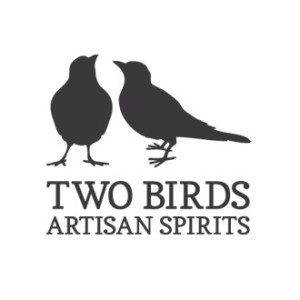 Nathan: Greyling is not totally new to Germany.  We've got a few friends in Aachen that are big Greyling fans! Aachen has a growing craft cocktail scene.
Ryan: Two Birds started as a bit of a lark.  Nate and I tried other craft spirits and thought that it might be an interesting experiment to see if we could make a business of making our own.  
Nathan:  We wanted to start by making the gin that we want to drink, to see if our perspective would be appealing to other drinkers.  Now we're committed to building a company around the production of this gin and future products.  We intend to stay small so that at no point is quality sacrificed.
Ginobility: Nathan and Ryan, you are the founders of Two Birds Artisan Spirits. Are you the "Two Birds"? And if so, why did you pick this name?
Nathan:  When I first started thinking about starting this company, I thought a lot about the example I want to set for my two daughters Lola and Felan.  I want to show them, through my work, that they can try to do whatever they want, whatever makes them happy, and that it is okay to take calculated risks.  My girls were a big inspiration.
The word bird is an old English slang term for girl, so as it happens I have two birds.  Now, though, it's fun to think of ourselves, Ryan and me, as the two birds.  
Ginobility: Let's chat about you two before we talk about your gin. What are your roles within the company and when did you decide to build up a distillery and produce your own spirits?
Nathan:  It's interesting.  When you start a project like this, it's easy to have grand notions of making nice things for people to enjoy.  The reality, though, is that we've morphed from makers to marketers.  It's basic.  You can't make what you want until you have a market that's suitably large and capable of being sufficiently supportive.

Ryan:  It's important to note that we don't have a distillery yet.  We're distillers without a distillery.  We like to think of ourselves as Gypsy distillers.  


Nathan:  The idea of Gypsy brewers has been around for some time in the beer making community.  We adapted the idea to spirits making.  In the U.S. it's difficult, complicated, and expensive to set up a distillery, even a small one.  We wanted to get to work right away; this model allowed us to develop a product and get it to market inside of a year.  
Ryan: Now that Greyling has a following, a distillery seems to be one of the next logical steps.  There's no need for us to rush. 
Ginobility: We are in the middle of a Gin Boom in Germany. We have heard from so many small distilleries in the US for some time now. Is gin such a big thing in the US as well as it is in Europe?

Ryan: Right now, gin is still really being rediscovered in the US.  Vodka took over as the main cocktail spirit in the 1960s when supplies of relatively inexpensive Russian vodka became available.  Gin is gaining in popularity and slowly reclaiming its rightful place as the primary cocktail spirit.  There is still plenty of room for growth, however.  
Ginobility: Let's talk about your first product Greyling Modern Dry Gin that is a handcrafted small batch gin.
We are sure that there are many things to tell us about. So let's start with the name Greyling and the story behind it.

Nathan:  The greyling is a small, silvery trout like fish that populated waters in the northern Midwest and Great Lakes Region (where Ryan and I are from) until the early 1930s when they went extinct.  They were totally killed off by over fishing and by the lumber industry.  The rivers and streams where they spawned became clouded with silt created by logging. They greyling met their demise at approximately the same time that small scale distilling died off in the US because of Prohibition.  Our marketing story is that we are bringing the grayling back as a crisp, clean, craft gin.
Ginobility: Greyling is based on spirit that incorporates Michigan Hard Red Winter Wheat. What is special about this kind of wheat and is there anything about the production process, which makes it even more special?
Ryan:  We start with wheat for two reasons.  Practically, wheat makes a very neutral spirit.  For our gin it acts as a blank canvas.  It doesn't influence the botanicals – they are able to stand individually.  Plus, grain is a significant portion of Midwestern agriculture.  It seemed an appropriate foundation for a regionally sourced gin like Greyling.
Ginobility: Greyling is based on 5 botanicals only. In Europe there are many Gins coming up with more than 10, 20 even 70 botanicals. So Greyling seem to focus more on the roots of Gin and concentrates on a kind of simplicity. Is this part of the concept?
Nathan: Simplicity is absolutely part of the concept.  A customer of ours said it well.  He complimented Greyling, calling it an exercise in restraint.  Greyling is a sort of revisionist take on gin.  We use only what's necessary for balance, sweetness, and aroma.  Too many botanicals and gin can seem overworked and taste a bit muddy.
Ginobility: You use Juniper, Coriander seeds, Grapefruit and Orange peel and Lavender. What is special about these botanicals and what qualifies them to be used for making a Gin as nice as Greyling?
Ryan: Our choice of botanicals makes mistakes in the distilling process difficult to hide.  It's an honest recipe.  Each botanical works nicely when used in the proper amount.  Too much, or too little, of any of the botanicals would make for a completely different gin.  
Nathan:  We're proud of the combination.  When we started developing Greyling, we considered using a few more botanicals, but as things progressed it became evident that for this gin, the pared down list worked.  The lavender is sort of our tour de force.  This variety of lavender is specially grown, culinary grade lavender form northern Michigan.  It contains no camphor, like perfume grade lavenders, which can impart a bitter taste when incorporated into food and beverages.
Ginobility: How would you describe the taste of Greyling Modern Dry Gin to our readers and what makes it a "modern dry gin"?
Nathan:  Greyling is neither a fully traditional London dry gin nor a totally contemporary or New Western dry gin.  It's somewhere in between.  At the onset the recipe is fairly traditional, however the use lavender to offset the juniper and citrus, and to give the mix balance and a hint of sweetness, is a more modern, American approach.
Ginobility: What kind of still are you working with? Are there any specials used for the production of Greyling Gin e.g. infusion, steam infusion, digestion etc.?

Ryan:  You'll be happy to know that our American gin is made in a German still.  Greyling is distilled in a 90 gallon Christian Carl pot still.  The essence of the botanicals is removed using vapour extraction.    
Ginobility: As already mentioned Greyling Modern Dry Gin is your first product. Are you already working on other products? Maybe a follow up version of Greyling?

Ryan:  We're seriously considering making a big, complex gin, one where the production process is a bit more involved.  But right now, Greyling is keeping us extremely busy.
Nathan:  Shortly we'll be experimenting a bit with making our own tonic, one that combines well with Greyling.  It's difficult to say now how that will go.
Ginobility: Gin & Tonic is the most favourite gin based drink worldwide (together with maybe Dry Martini). Greyling for sure works fine for both and beyond. Do you have any recommendation regarding recipes that work best with Greyling?


Nathan:  One of my favourites is the Greyling French 75:
1.5 oz Greyling Modern Dry Gin, .75 oz fresh-squeezed lemon juice, .5 oz simple syrup.  2 oz Dry Sparkling Wine (brut champagne or cava), Lemon.  In a cocktail shaker combine gin, lemon juice, and simple syrup with ice.  Shake well.  Strain into glass.  Top with sparkling wine.  Garnish with a lemon twist.
Ginobility: We are proud to bring Greyling Modern Dry Gin to Europe and Germany. Is there anything you would like to tell our readers, who most probably never heard from you and your product before? Now is your chance! ☺
Nathan:  You'll have to trust the guys at Ginobility.  Clearly, they know good gin!  Prost!!
We would like to thank Nate and Ryan for their time and foremost their faith in Ginobility! You can find Greyling Modern Dry Gin in our shop. Retailers, bar managers etc. please contact us via e-mail info@ginobility.de
Follow the guys from Two Birds Artisan Spirits on Facebook and Twitter  or visit their website.